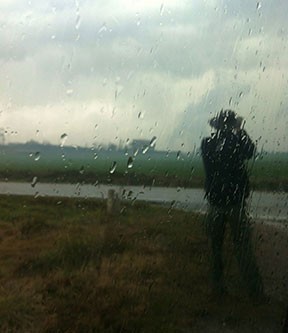 Establishing Different Ways
Living in a way that I sense as sincere and honest, and the fact of not having the financial means to get and secure access to land or a house, results in my case in a sort of semi-nomadic and often precarious lifestyle for now.
In general, I sense that as a human being I live and work not for myself, but as part of all what we call nature, thus I contribute to nature as a whole.
In other words, I am aware that every action I perform, influences and is influenced by everything.
Even simpler: I am in everything and everything is in me.
Concerning life in all its perceived diversity there is a sensation of kinship, paired with a sense of wonderment.
With that, naturally, comes a sensation of wanting to protect, to foster and serve.
To sense that my activity exploits, or that it participates in some form of exploitation, or generates suffering, is neither bearable for a long time, nor is it acceptable.
I hope to contribute to the common good through my activity.
And yet, I surely would not want to encourage any certain manner of living, other then to follow your heart.
Consequently, and in my experience, a direct personal relationship is the only thing that might withstand and outlive failure or abuse enacted by a system. It is those relationships that make a life situation within a society resilient.
To me, the potential of a patronage or mentorship is, that people whose abilities and drives, or fortunate circumstances have led to the accumulation of a certain financial wealth, decide to share some of that 'water' with others.
With others I mean people whose sensibilities and talents might be less valued or featured in a given society.
The mentor, however, sees a value and decides to support.
In that way, a mentorship could be described as a collaboration and a contribution towards a more diverse and healthier society.
Another concept is that of Dana, which in Buddhism or also in Hinduism, for example, describes a formal religious act of giving to a monastic person or a person on a spiritual path. Dana is as an integral part and a common practice of many Eastern societies.
If what I share on this website speaks to you and you would like to support, please feel free to do so.
Apart from a 'homebase'/living/work space, financial support is definitely needed.
That could be a small or big monthly contribution or a small or big one time gift.
The money will be used for necessary living expenses and artistic materials.
Of course, if there is an old house or farm that needs somebody to live in and breathe life into it, I am interested.
Another way of support could be talking about and sharing what inspired or touched you.
If you would like to organize a reading or event, if you are looking for any information regarding themes you find on the site, or are interested in acquiring or exhibiting artwork, please get in touch.
In any case, know that any support or cooperative effort surely is greatly appreciated.
I think it is time to be courageous, and I think it is time to implement new ways.
Thank you
Lars Schmidt
Bank Account: Lars Schmidt
Reference: New Ways
IBAN: DE23100500000074833588 ; BIC: BELADEBEXXX
Landesbank Berlin - Berliner Sparkasse
Ultimately, I would like to express my sincere and deep gratitude for the support, help and openness I have met on the way. As I often mentioned, if you could meet each other...what a beautiful gathering it would be.