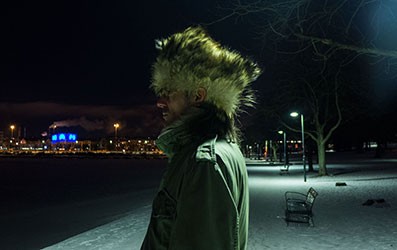 Lars Schmidt is a naturalist, a multidisciplinary artist, dancer, improviser, facilitator and lecturer.
His work, in his various roles, reflects an immersion in both Eastern philosophy and nature, expressing an approach of 'learning to listen' and contemplative practices as a reoccurring theme.
Integrating his background as artist and performer, he engages in the exploration of relationships between artistic expression through music/movement/performance practices and the visual arts, and philosophical worldviews communicated through the teachings of Buddhism or Spiritual Ecology.
Formative years in New York City.
Background and studies in music and the performing arts, somatics, photography and film, ecology and anthropology, focusing on indigenous cultures and Eastern philosophies.
He has worked as actor for film and TV, as acting coach and director.
In dance and bodywork his path led from classical and modern dance training to working with postmodern dance forms, tango and improvisation.
He is an advocate and activist for nature protection and regeneration, creating wildlife refuges and pursuing research in animal behavior and communication, as well as in different fields of traditional craftsmanship and land use.
He holds a diploma of Applied Permaculture Design (applied ecological design) and has worked and lived with shepherds and on organic farms in France, Italy and Norway.
His artistic work meanders through the fields of music and sound art, photography, film and visual arts, poetry and performance.
Lars has lived, worked and taught in major cities like New York, Paris, Berlin, Buenos Aires, Barcelona or Oslo.
He currently lives in Paris and the UK.
For more information and context -> Notions towards Rebalance